Spider Farmer SF Review – Dimmable Quantum LED Grow Light
LED Grow Lights Shop
Spider Farmer SF Dimmable Quantum LED Grow Light Review
Quantum boards are all the rage.
It started with HLG, but now several budget brands have started offering quantum boards with Samsung chips and Meanwell drivers.
One of the best is Spider Farmer and their SF line of lights.
They basically give you what HLG gives you, but at a fraction of the cost.
Of course, they are a Chinese brand (HLG are an American brand, but their lights are also made in China), so there is always a drawback.
But what, exactly, do you sacrifice when you go with Spider Farmer quantum board LED grow lights over HLG or other more expensive brands.
Are the cost savings worth it?
Read the rest of this review to find out.
Let's begin by taking a look at each light in the Spider Farmer SF series, before getting to a more in-depth review of the basic SF 1000 fixture.
Spider Farmer Samsung And Meanwell Fixtures Comparison Table
MODEL
SIZE
WATTAGE
COVERAGE
BLOOM PAR
SF 600

Check Price
Weight:
2.3 lbs.Dimensions:
11.2″ x 9.6″ x 2.2″
Actual:
87 wattsHID Equiv:
150 watts
1.5′ x 1.5′
400 umol/m²/s
@ 18 inches
SF 1000
Check Price
Weight:
2.77 lbs.Dimensions:
11.8″ x 10.5″ x 2.3″
Actual:
100 wattsHID Equiv:
200 watts
2′ x 2′
450 umol/m²/s
@ 18 inches
SF 2000
Check Price
Weight:
6.76 lbs.Dimensions:
25.5″ x 10.5″ x 2.3″
Actual:
202 wattsHID Equiv:
400 watts
2′ x 4′
840 umol/m²/s
@ 18 inches
SF 4000
Check Price
Weight:
11.5 lbs.Dimensions:
25.3″ x 21.1″ x 2.3″
Actual:
404 wattsHID Equiv:
800 watts
5′ x 5′
1320 umol/m²/s
@ 18 inches
Spider Farmer SF 1000 Review
This review focuses on the 1000 watt Spider Farmer fixture, but everything written here goes for the SF 2000 and SF 4000 as well, apart from the individual specifications. The table above shows the differences in specs. In fact, the SF2000 is really just two of the SF1000 lights combined and the SF4000 is basically 4 of them.
The SF600 is slightly different, in that it uses a smaller board and it is not dimmable. Apart from that, it is basically the same, just not as powerful, obviously.
Features
Uses 100 watts — save about 50% on your electric bill over HID lights
Equivalent to a 200 watt HID system — but costs less to buy AND to operate
Ideal spectrum for plants — 3000K and 5000K white light, plus 660 nm red and 760 nm IR; the perfect light for all stages of growth, with peaks on red and blue and a lot of light in every other color, plus deep red and IR
Highly efficient — great output from a low power usage (2.7 μmol/J)
2.2 grams per watt max yield — yields equivalent to top brand lights, but at a fraction of the price
2 by 2 foot core coverage — the coverage for vegging is a bit larger at 3 by 3 feet
Samsung LM301B diodes — the same diodes used in much more expensive HLG fixtures
Meanwell Driver — the industry standard; it is dimmable and can be removed from the unit and placed outside your grow tent to keep heat down
Rated for 50,000 hours — 4-5 years with no bulb changes
3 year warranty — and a 30 day money back guarantee
Advantages
The four strongest points of the Spider Farmer quantum board series are the high quality components (Samsung chips and Meanwll drivers), the color spectrum, the even coverage and high output per watt consumed, and the low cost.
Quality Components
Just like the much more expensive fixtures from Horticulture Lighting Group, Spider Farmer fixtures use high quality dimmable Meanwell drivers and Samsung LM301B chips.
While HLG is the one who names their Samsung diode outfitted panels quantum boards, that term is now being used by consumers for any light that features Samsung diodes on a flat panel. As such, the SF series of fixtures can be said to use quantum board LED panels.
They are not available as DIY kits, like HLG quantum boards, but the ready-made SF fixtures sell for a lower price, so DIY wouldn't make nearly as much sense anyway.
Quality components mean the light lasts longer, but they also save you money. The combination of top-bin diodes and the best driver on the market means a much higher efficiency than lights that use lower quality components.
All told, this light achieves an output of 2.7 μmol/J, which makes it one of the most efficient lights on the market. Take a look at the PPFD footprint below in the section on coverage and output to see just how much light the SF 1000 generates from a power usage of only 100 watts.
Heat output
Another benefit of the Samsung and Meanwell combination is a very low heat output. It is so low that the fixture is passively cooled. It has no fans.
This does not mean that the light generates no heat, however. It does not need internal fans to cool it, but like any light, it does create heat and due to the lack of fans, that actually makes the light run hotter than fixtures that generate more heat, but have fans to help dissipate it.
As a result, you will want to use an external fan in your grow room to keep air circulating around the fixture. This is especially true of the two larger models.
In addition to the high quality components, Spider Farmer added some nice touches that you won't find in HLG lights. They use waterproof glue on the diodes to prevent vulcanization and corrosion. They also added protective covers over the exposed wires, which helps prevent shocks or other accidents.
Spectrum
Let's begin with the spectrum. For years we heard that purple LED light is best, but that turned out to be false. Read all about why grow lights are purple.
Today, more and more consumers are realizing that full-spectrum white light is better than just red and blue. And white light with additional red and blue is even better.
With the increase in demand for white LEDs, more manufacturers have begun making them. They come in two forms: fixtures that use COB LEDs and fixtures that use a large number of smaller diodes.
I have written about the COB grow lights here, so I won't go into any detail about those in this review. The Spider Farmer lights do not use COBs. They use many smaller diodes.
This makes them very similar to the quantum board LEDs from HLG and the Electric Sky fixtures from the Green Sunshine Company. But Spider Farmer lights cost a lot less.
The only lights in the same price range with a similar spectrum are the Mars Hydro TS and SP grow lights. There are some differences in the spectrum, though. And, of course, in the components.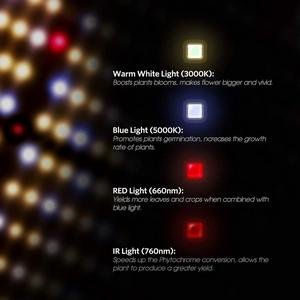 Doides layout and comparision
Spider Farmer SF fixtures have a mix of 3000K and 5000K white diodes, with additional 660 nm deep red and 760 nm IR diodes.
Most HLG lights have only white light and their newer RSpec fixtures add in 660 nm deep red. The Electric Sky lights feature white light with deep red and IR. The Mars SP and TS lights vary. Some have deep red in addition to white, while others have the same plus IR and UV.
So which is best?
If you want UV, go with the Mars Hydro SP lights. They are the only ones that include UV diodes.
But UV is really only useful for the last few weeks of flowering (more on the effects of UV here), so I always say it makes more sense to just get fluorescent UV tubes if you want to add ultraviolet light to your grow.
For value, it's either Mars Hydro or Spider Farmer. They're very similar all around. The primary difference is that Mars uses Epistar chips, while Spider Farmer uses higher quality Samsung chips.
I'd base my decision on which company has fixtures that best fill your grow space, with the edge going toward SF, due to the Samsung diodes.
So, what is the advantage of the all-white plus deep red and IR spectrum?
The white diodes give you light in every wavelength, with the 3000K diodes providing more reddish light and the 5000K providing more blueish.
The deep red and IR light is especially useful during bloom, where it speeds up flowering time a bit and is also said to boost yields.
Coverage And Output
Like HLG fixtures, one of the biggest strengths of the Spider Farmer lights is their form factor. The quantum boards used in the fixtures are large and flat, with LED diodes spread out over the entire surface.
This has a huge advantage over smaller fixtures.
A smaller fixture emits light from a smaller point in the center of the coverage area. Light traveling to the outside of the coverage area has to go further than light traveling straight down to the center.
Light loses intensity exponentially with distance traveled, meaning that the light loses most of its intensity by the time it gets to the canopy around the outside of the coverage area.
A fixture with a larger surface area brings diodes closer to the outsides of the coverage area, meaning light does not have to travel as far to reach the canopy there.
It doesn't lose as much of its intensity, so it is able to penetrate deeper into the canopy. This also means that plants around the outside of the coverage area don't suffer nearly as much from insufficient light.
Let's take a look at the PPFD chart for the SF 1000.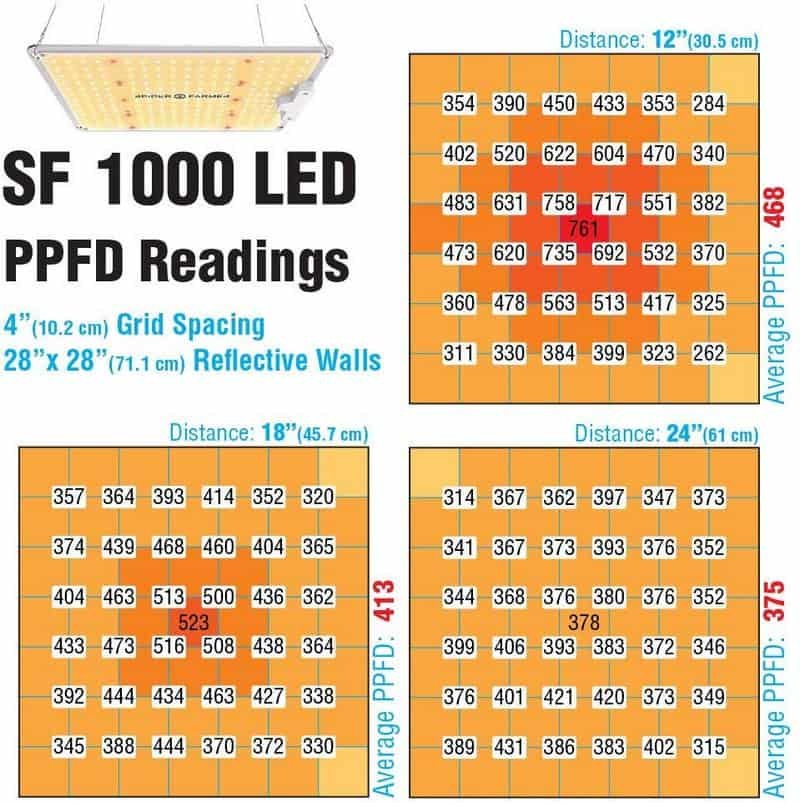 As you can see, the values in the corner are more than half of the value dead center (apart from the 12 inch hanging height). That is highly unusual.
Most PPFD footprints have sky-high values in the center and tiny values in the corners. Usually the corners get less than 100 μmol/m²/s.
This shows how the large size of the Spider Farmer quantum board results in a much more even light spread. Plants around the outside of the coverage area still get plenty of light to grow and flower, which is not the case with most smaller fixtures.
The PAR footprint also shows just how much output this light gives you, while only consuming 100w.
What's more, the driver is dimmable, so you can dial down the power when you don't need quite so much, as might be the case when seeding, cloning or vegging. This saves you money in electricity costs.
Other Advantages
When you buy a Spider Farmer LED quantum board grow light, you get the security of a 3 year warranty and a 30 day money back guarantee.
In addition to the warranty and guarantee, SF lights also ship with stainless steel hanging hooks
and adjustable rope hangers.
Spider Farmer SF review of Quantum LED Grow Light: Final Verdict
The Spider Farmer SF 1000 LED Grow Light, and the larger 2000 and 4000 fixtures, are great additions to the quantum board market.
They give you a color spectrum similar to the HLG quantum boards, but add in IR and deep red light. You also get the same high quality components, the same output and even coverage, but not the same price.
The Spider Farmer fixtures are priced much lower than comparable HLG lights, making them one of the best deals on the market at the moment.
As mentioned above, I would go with Mars or Spider Farmer and choose whichever has fixtures that best cover the size of my grow space. All else being equal, I would prefer the Samsung chips in the SF lights, over the Epistar chips in the Mars lights.
Apart from that, both companies' lights are very similar, which is why I give SF lights a slightly higher Grow Light Info rating than the Mars TS and SP lights: a 4.8 out of 5.
Source: reviewed by Steven at https://growlightinfo.com/